You will truly enjoy this book.  Call for information on how to get a copy.    708-320-1591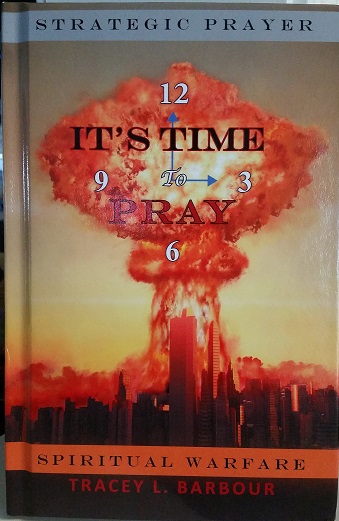 THIS BOOK IS IN THE PROCESS OF BEING RE-PUBLISHED AND RELAUNCHED.
Stay Tuned for "The Announcement"
                                                                                            ABOUT THE BOOK
                                                                                              IT'S TIME TO PRAY
For anyone who has a desire to discover how to get more out of your prayer life, this book is for you.  Prayer is a key to unlock the door to victory in your life. These are days of great darkness where evil abounds and strategic prayer and spiritual warfare are required.  God is calling us for duty; now is the time for an Army of Light to rise up.  He is calling us to take our places of power and dominion through prayer all over the world.
Tracey Barbour delivers to you in this book strategies for prayer that make it easy for anyone to learn how to pray with power and get results. You will learn among other things:
The Fundamentals of Strategic Prayer
The Eight Prayer Watches
How to Wage Spiritual Warfare and Win
After reading this book you will be able to penetrate the darkness and get results. Now is the time to manifest The Army of Light.  Right Now! – It's Time to Pray.
The night is far spent, the day is at hand: let us therefore cast off the works of darkness and let us put on the armor of light.  Romans 13:12
ABOUT THE AUTHOR: 

Tracey Barbour is a minister of the gospel of Jesus Christ; Called as a prophetic trumpet in these last days.  Tracey is a prayer General and founder of "Kingdom Army of Light International" prayer ministry.  She is operating under the mandate from God to teach everyday people how to effectively use the powerful weapon of prayer to build up the Kingdom of God and to destroy the works of the devil. Tracey is bringing this powerful message of strategic prayer and spiritual warfare through books, audio & video teachings, conferences and retreats.   Tracey is raising up an Army of Light around the world and fulfilling her calling from God to get the troops ready. Tracey is a gifted orator, author, mentor, teacher, prophetic intercessor and worship leader
*Payments made to us for goods and services are not tax deductible