Event Phone: 708-320-1591
May 17, 2018 - May 20, 2018




12:00 pm
Join us in May 2018 come together as women of God to spend time with the Father and prepare
for the next season of  "Victories" for the Kingdom of God.  
It's time for the Lioness in YOU to ARISE 
        Reserve a spot for you and a friend today!!!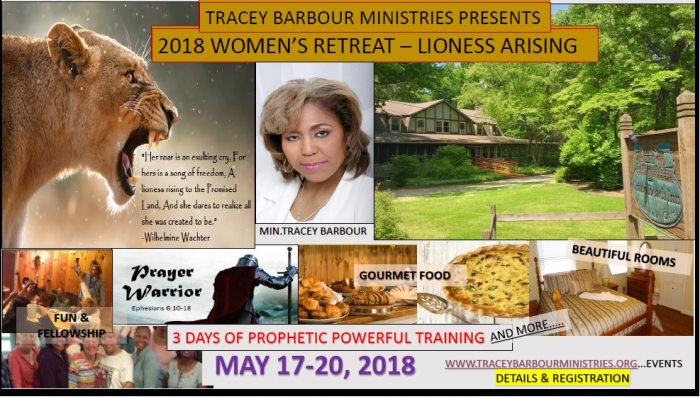 We also accept Cashiers Checks and Certified Money Orders by mail. All balances due by April 5, 2018 made out to Tracey Barbour Ministries. You can mail payments and registration form to: Tracey Barbour Ministries Retreat – 7600 W Roosevelt Road LL#127 – Forest Park IL 60130 /Payment Code (TBMR2018)
*Please note that your room is not guaranteed until paid in full.*
Payment Options are (1 payment, 2 partials or 3 partials).
Space is limited and there are more guests desiring to come than we have rooms. Therefore, payments need be made on time. Partial payments are due Dec 28th, Feb 25th and April 5th.  
Location
Address:
19400 RAVINE DRIVE
,
NEW BUFFALO
,
Michigan
,
United States